acceler8 Portfolio Up 12.5% in 1 month
When it rains gold, put out the bucket, not the thimble."

-Warren Buffett
Friends, the message cannot be truer in life and #investing. We are in a sweet spot now where the markets are raining returns.
Acceler8 portfolio done well too with a 1 month return of 12.5% with a CAGR of 350% .
Performance

acceler8 portfolio has outperformed the benchmark Nifty50 by 15.6%.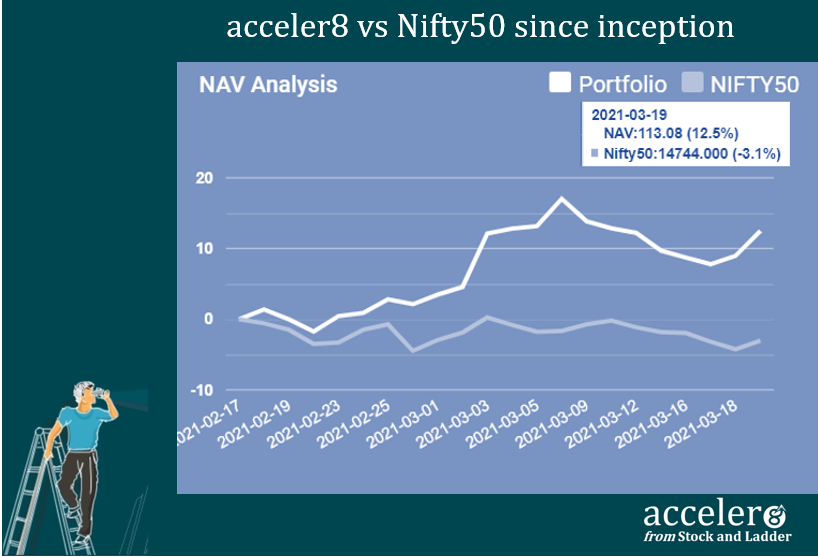 Closed trades
A few closed positions for your reference.

Just to add, a new trade done this week is up 7.62% in 3 trading days.
---
Subscribe
Friends, here is what I believe to be a good opportunity to get better at investing to accelerate your wealth creation, do consider becoming a premium member and seize the opportunity the market is providing us.
As Benjamin Disraeli "The secret of success is to be ready when the opportunity comes"
Happy investing.
PS : Please share with your friends whom you feel this will benefit.
PPS : In case you missed it, here is an insightful investing chat with Abhishek Basumallick I had published this week.
Do you love Reading?
Check out the best books to read at the Superinvestors Bookshelf Let's stay connected, Follow me on Twitter @Stocknladdr