Issue 025, 22nd Aug 2021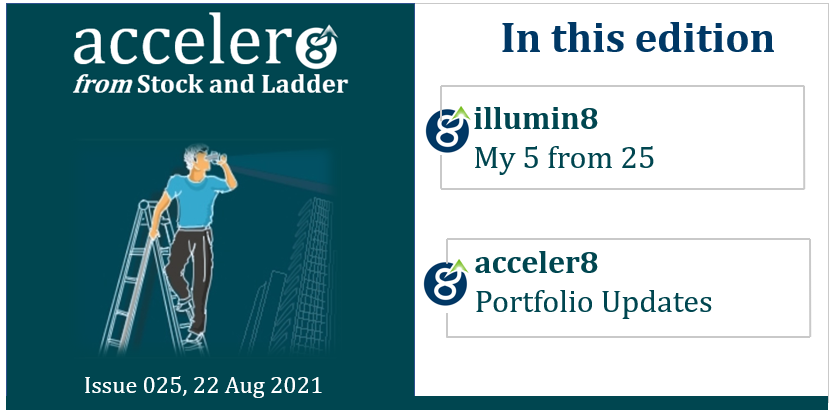 ---
Section A – illumin8
My 5 key takeaways from first 25 weeks of acceler8
"You meet interesting people, do interesting things and they become chapters in your life"

-Anonymous
As many of you are aware that this week was the 25th week of the acceler8 – "Follow my Portfolio Service", it was also a time for taking a pause, reflecting on what we did and also planning for the next 25 weeks.
The genesis of the idea for this specific post came from an interesting question posed by my very good and business partner.
In the last issue, we had specifically called out the excellent performance of acceler8 portfolio and had also shared this wonderful infographic – A collage of all the 24 pieces I wrote for this newsletter.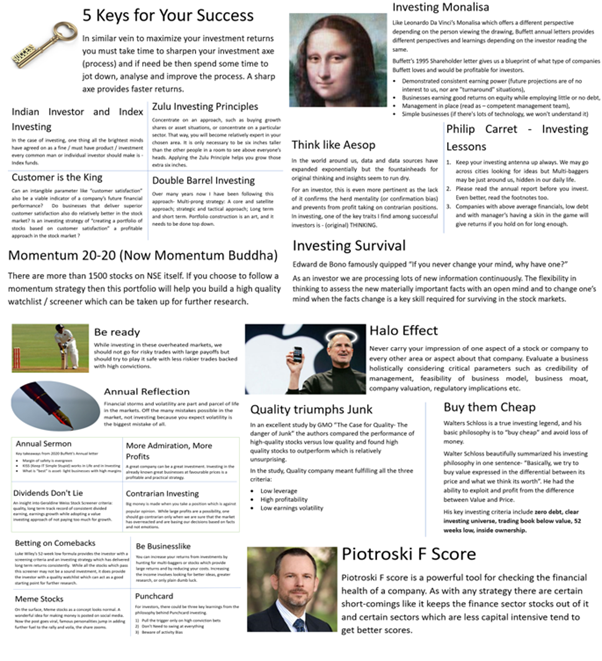 As you can see we have covered quite a few investing topics and I had tried to keep it fresh with original perspective.
Investing Strategies ( Contrarian Investing, Quality investing, 52 week Low…)

Superinvestors & Screeners (Geraldine Weiss, Piotroski F score, Philip Carret..)

Investing Trends & Ideas ( Meme Stocks, Customer satisfaction index, Halo effect..)
As I was looking back and reflecting on the infographic, she asked me a question: Ravi, I have heard many instances of your subscribers telling you how informative and interesting your newsletters are and how they have learnt something from each issue, But I am curious to know, what have you learnt in the last 25 weeks since we started this premium newsletter – which was your dream for a long time – to combine earnings with learnings to help common man invest better.
I paused for a moment, took a deep breath, and decided I that I would sleep on this question and replied that I will speak my mind the next morning.
Friends, this is what I said to her the next morning :
1. Start Early
In Life and in Investing, it pays to start early. This concept of combining learning and earning in a single premium newsletter probably was there on my mind since 2017. But it took me a cool 4 more years (Feb 2021 to be precise) for the idea to see the light of the day.
Here is a cool infographic on how a delay in investing can impact financially and will have a significant bearing on the wealth creation.
5000 SIP @ 12%
All things equal, a delay of just 3 years can make you poorer by 56 lacs.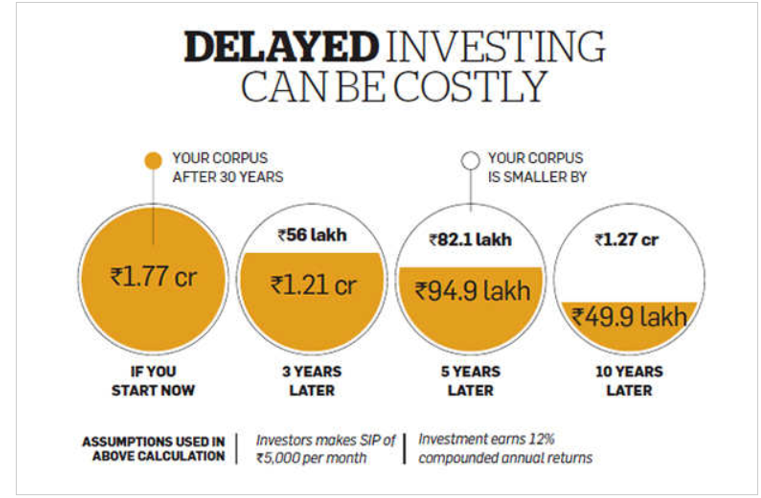 2. Chase Excellence, Success will follow
The above clip is from one of my favorite movies "3 Idiots". Actually the movie title is an oxymoron. The title "3 Idiots" can be replaced by "3 Wise men" and it would not be out of place.
This blockbuster, award winning Aamir Khan film has more pearls of wisdom packed into 3 hours of Bollywood movie than you will find in 300 hours of reading.
In life and investing, do not chase fame, money, or awards. These are the by-products of your hard work, dedication, and success.
In 2017, after few months on Twitter, I would religiously check every day to see by how much my follower count had increased. It used to be few hundreds then and reaching 1000 looked like a pipe dream.
I was also sad that my follower count was only a few hundreds and believed I should be getting bucket loads of new followers for the quality content I thought I was sharing (I think its in our genes for humans in general to have a wrong sense of self-worth, a misplaced sense of self-importance and a very subjective / emotional / biased view of your entitlements)
It was then that I had a chance conversation with D Muthukrishnan (@dmuthu). Those who are on Twitter will know him well and of all the things, can you believe that the only thing I asked was : "Why is my follower count not increasing?"
In retrospect, this was not a great question to ask but the answer he gave me was very pithy and actually had a huge and long standing impact.
He said "Ravi, I have been following your Twitter Feed. You are doing good work. Please only focus on delivering value to your readers and be original. Don't try to be another D Muthu or Prof. Bakshi or any other FinTwit you admire. Followers will follow"
I thanked him for his advise and took his advise very seriously. I spent a whole weekend trying to figure out how I can add value to my Twitter followers and how I could deliver the message with a "voice of Ravichand".
The rest is history as they say. Its 4 years since and I have around 25000 friends on Twitter and more importantly, I don't consciously try to increase my follower count.
The same philosophy has permeated into very much everything I have been doing at #acceler8. My sole focus with acceler8 newsletter has been to deliver maximum value to my readers- be it finding the best possible investing ideas or sharing valuable investing content.
This has ensured few things that the growing number of acceler8 subscribers have been a by-product of the high-quality investing ideas and insights shared.
3.  Continuous improvement is better than delayed perfection
These golden words are not mine but Mark Twain's. There is a tendency among us to wait for the "perfect" moment, wait for the perfect investing opportunity, wait for the perfect set of information before we decide.
But life, investing and #acceler8 has reaffirmed my belief that seeking perfection is a recipe for delayed success or may be failure even.
Unless you are dealing in products like Coca-Cola where the recipe is a secret and the main duty of the Pembertons' (founders) was to guard the secret ingredients, it is but natural that you will not have a perfect product when you launch .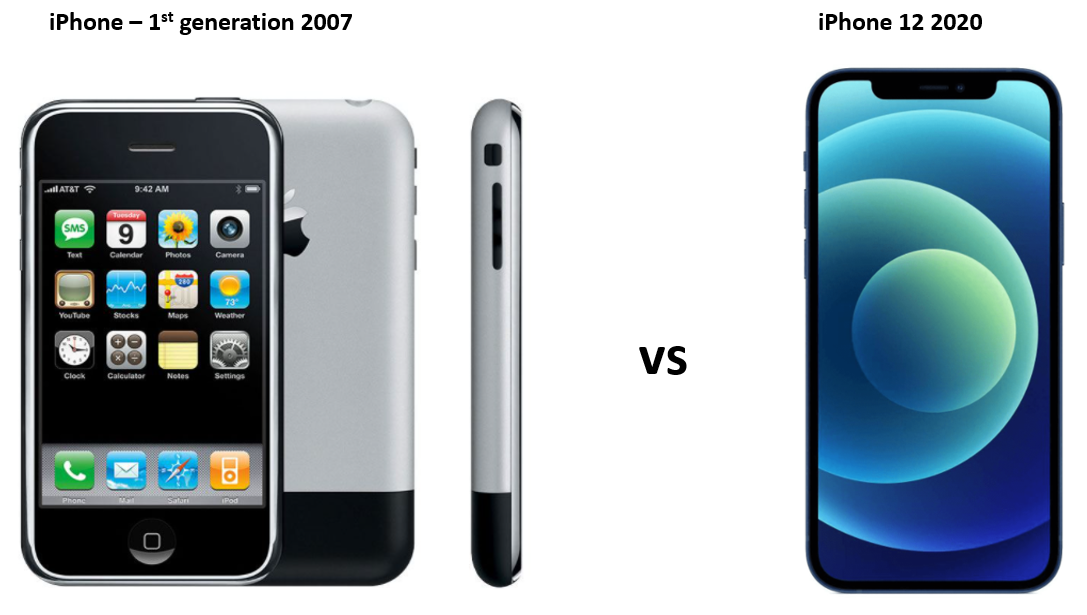 The above picture speaks a 1000 words. If Steve Jobs waited for the perfect iPhone then he would not have released in the first generation in 2007.
Similarly in life and in investing, we should not aim for perfection to commence an activity. Waiting for the perfect pitch , perfect moment, perfect opportunity is actually counter- productive.
Have a minimum viable product, get your feet wet and improve on the way.
4. Its never too late to chase your dream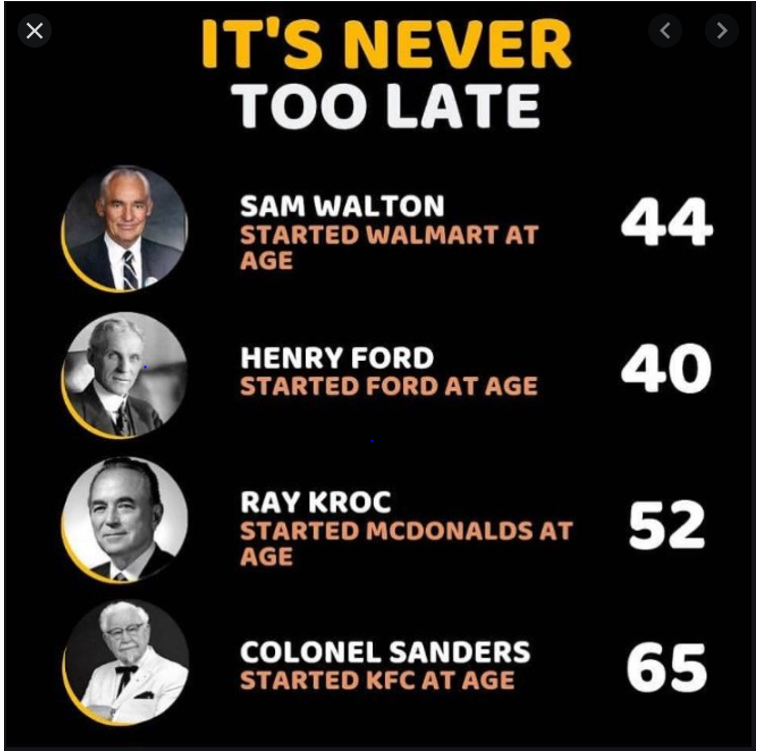 This needs no explanation.
Work on fulfilling your dreams or someone will hire you to fulfil theirs. Enough said. If you have a regular 9-5 job then use the 9-5 job to pay your bills and invest your time in your passion or your second source of income to build your empire.
5. Two heads better than one
While this is not a learning per se, but I still chose to put it here as a reaffirmation of my long standing belief that to succeed in life and business two heads are better than one.
Almost everyone in the investing Industry know about Buffett- Munger investing partnership. What is more awesome is the wonderful chemistry, understanding and the beautiful relationship of mutual respect and admiration exists between them.
Beyond this famous team of 2, there are many more famous and successful partnerships. I am no Buffett and my business partner is no Munger.
I cant but tell you how much it helps to have a fine sounding board to bounce off your ideas, an anchor to keep you grounded and a source for honest feedback .
It also helps that she is also my best friend and a pillar of support without whom I could not have brought out these acceler8 editions. So a big shout out to her.
The key takeaway: Have a sounding board, a friend, a well-wisher with whom you can share your ideas, thoughts and get honest and selfless feedback.
Final thoughts
I hope the learnings I have shared will be useful in your life and investing. As we look forward to the next 25 weeks, please be rest assured that the promise made at the start of this newsletter that we would leave no stone unturned to make money work for you remains intact.
As a small token of thanks there is an offer for extending your acceler8 subscription at a 50% discount. I am grateful for all the support and encouragement I have received. Looking forward to your continued support and patronage.
It would mean a world to me if you could accept the Silver Jubilee special offer and extend your acceler8 membership for 2 more years. Against a normal price of 19800/- for 2 years, you can now subscribe for 2 years at half the price.
Looking forward to each one of you taking this offer.
---
Section B – acceler8
Nifty50 Last Week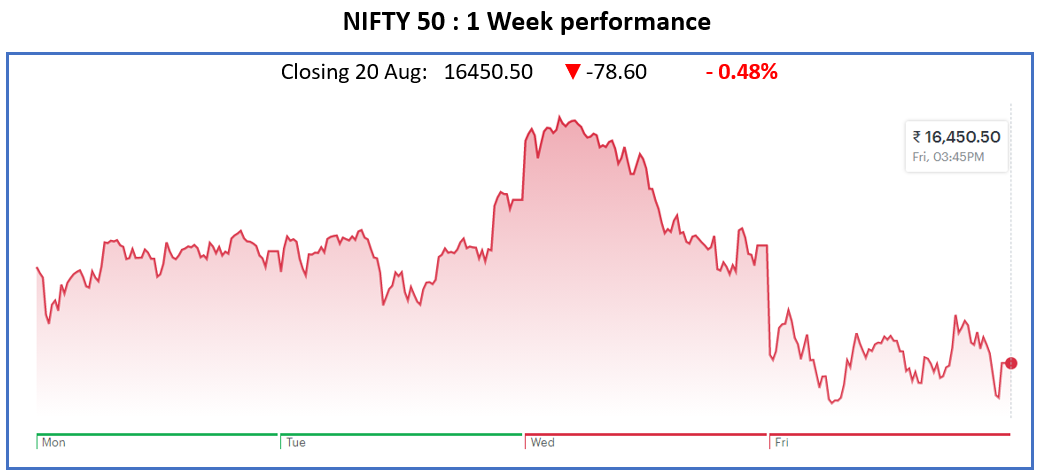 acceler8 Portfolio NAV
#acceler8 continues its strong performance and the portfolio has +27.2 % outperformance against NIFTY 50.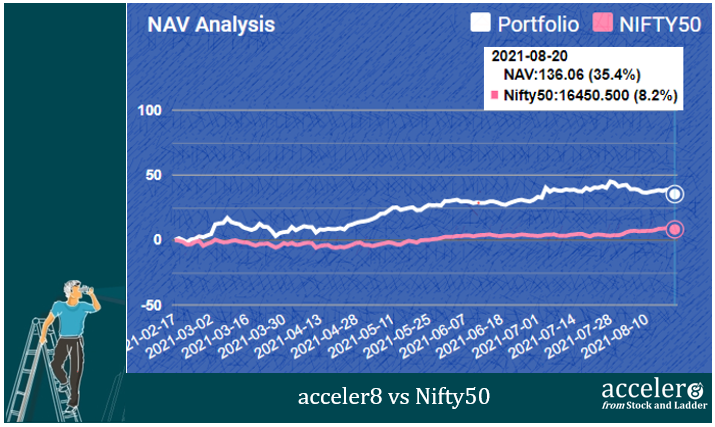 Current position
We are at 70% cash reflecting high valuations.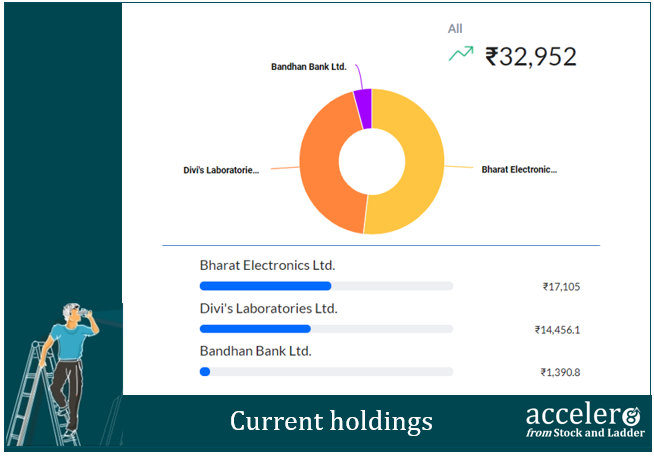 With lofty valuations and high volatility I have chosen consciously to stay away from average opportunities. As you are aware momentum works both ways. Rest assured we have our antennas up and we will pull the trigger when a good opportunity presents itself.
---
accumul8
Dear acceler8 Subscriber,
While I was going through the customer records for my accumul8 long term portfolio service I observed that there are still a few of you left who have not subscribed to my accumul8 "Follow my Portfolio" service.
We are coming up with 2 new buy recommendations in the next few days and I would love to have every one of my acceler8 customers to be a part of my accumul8 "Follow my Portfolio" service also.
So here is my passionate appeal to the remaining few to also join the accumul8 wealth creation journey. Subscribe at 50% discount today.
Looking forward to an exciting week.
---
Happy investing !
Until next week, take care and stay safe.
Do you love Reading?
Check out the best books to read at the Superinvestors Bookshelf Let's stay connected, Follow me on Twitter @Stocknladdr