The purpose of a business is to create and keep a customer- Peter Drucker
We regularly hear statements like "Customer is the King" or "Customer comes first!" emphasizing the significance of a satisfied customer for a business. On the face of it, the emphasis on customer satisfaction makes a lot of economic sense as the customer is the prime source and reason for the revenue, cash flow and profits of the business.
However, can an intangible parameter like "customer satisfaction" also be a viable indicator of a company's future financial performance?  Do businesses that deliver superior customer satisfaction also do relatively better in the stock market? Is an investing strategy of "creating a portfolio of stocks based on customer satisfaction" a profitable approach in the stock market ?

The answer to all the above questions seems to be a resounding YES! Academic research by Prof. Claes Fornell and others have found convincing empirical evidence that stock returns on customer satisfaction do beat the market, that too by taking on a lower risk.
Underlying Theory
The basic premise is that:
Customer satisfaction leads to increased customer loyalty resulting in higher spending per customer which then adds up to a long term stock appreciation.

There are plenty of academic studies that reaffirm this theory that customer satisfaction has immense economic effects. Some of the benefits include more repeat business, greater Cross-selling opportunities, fewer customer complaints and lower warranty / service costs among others.
Customer Satisfaction Index
For studying the effects of customer satisfaction on stock returns, researchers did an analysis of publicly available data in the United States. Customer satisfaction was measured based on data from American Customer Satisfaction Index (ACSI).
ACSI is cross-industry measure of customer satisfaction based on annual survey of more than 180,000 US consumers. The survey data acts as an input to an econometric model that benchmarks customer satisfaction among more than 300 companies across various sector.
ACSI Model
The underlying basis for the index is ACSI econometric model.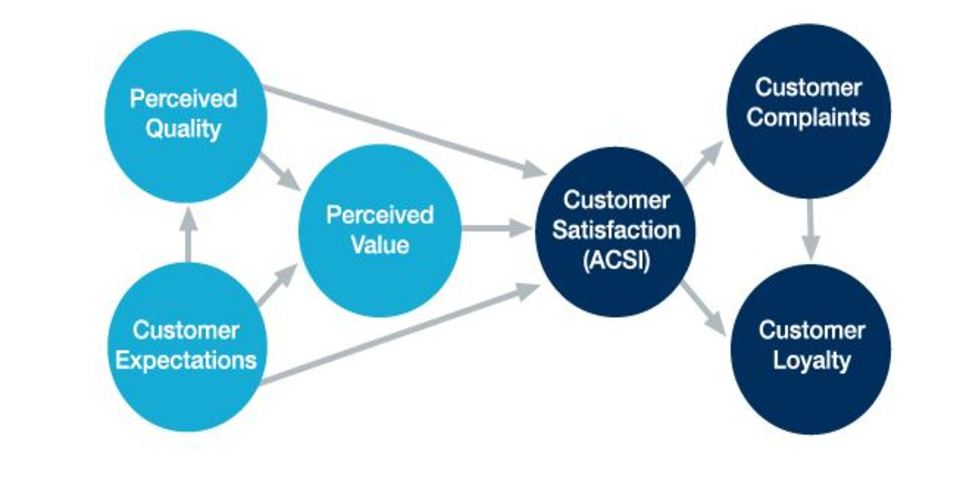 This cause and effect model was developed at the University of Michigan's Ross school of business. The model was proposed by Prof. Claes Fornell & others in a 1996 paper published in the Journal of Marketing.
ACSI portfolio Vs S&P 500
Coming to the crux of the post, let us see if customer satisfaction has an effect on stock returns and stock market performance.
In 2016, Prof. Claes Fornell & others published a paper comparing the cumulative returns on the customer satisfaction portfolio based on ACSI data with S&P 500 data for a 15 year period. The results were nothing short of remarkable:

The cumulative, model-free returns, expressed as the value of $100 invested from April 2000 through June 2014 grew to $618 (+518%) compared to 31% growth in S&P 500
The other key finding was how consistently the customer satisfaction portfolio beat the S&P returns on an annual basis. In 14 out the 15 years of the study, the customer satisfaction portfolio did better than the broader index except in the year 2013.
ACSI portfolio in UK Market
To see whether the effects of customer satisfaction to generate out-sized stock returns can be replicated across markets, the researchers checked the data for United Kingdom ( They have a similar customer satisfaction Index called NCSI-UK).


The findings were similar to the US market which further validated the thesis that an investing strategy based on customer satisfaction does indeed produce excess returns and can be a profitable stock picking strategy.
Indian Market
For testing the validity of this premise in the Indian stock markets, we need a customer satisfaction index for the Indian market. Unfortunately, an internet search on the Indian Customer Satisfaction Index led me to an expired domain. Phew!
I did not give up.
Banking Industry
What I did find was a study done by ICSI on Indian banking industry  for customer satisfaction. Based on their survey they had published the customer satisfaction scores for 12 large banks in the Indian market.

Total returns of Bank stocks vs  Bank Nifty
This data was used to compare the long term stock returns of the individual bank stocks with the Index reurns. The 10 year total returns of each stock (mentioned in the study) was compared with the 10 year total returns of the Bank Nifty. Since the performance and workings of a PSU bank and a Private sector bank are as different as Apples and Oranges, I used Nifty PSU Bank Index and Nifty Private Bank index respectively for my analysis.
Here are the total returns for a 10 year period:

The top bank in both PSU and Private sector outperformed the respective index. In case of Bank of Baroda the outperformance over 10 years is +4.52% whereas for Kotak bank it is marginal at +0.54%
HDFC bank has outperformed Kotak over a 10 year period. However, if we are to look at the total returns for a longer period of 15 years then Kotak bank stock has significantly outperformed HDFC Bank by +10.19% (38.62% for Kotak vs 28.42% for HDFC bank over 15 years)
Auto Industry
I searched for customer satisfaction index data for another industry to see if we get similar results. As an auto enthusiast,  I remembered about the annual J.D. Power ratings for customer satisfaction in the passenger car segment.
The results of the latest J.D. Power study:

Total returns of Auto stocks vs Nifty Auto Index
Again the data had foreign players who are not listed in the Indian market. Also Maruti Suzuki is strictly not comparable with a Tata Motors or a M&M as they are conglomerates producing automobiles other than cars like buses, trucks, tractors etc.
Still due to the paucity of customer satisfaction data (if you know any sources for customer satisfaction data for other industries then please call it out in the comments section), I went ahead and did a similar comparison of the total returns of auto stocks mentioned in the survey with the Nifty Auto Index.


Again the finding was remarkable. The leader in customer satisfaction (Maruti Suzuki) outperformed the broader index by a sizeable +4.03% over 10 years.
Final Thoughts
Picking stocks of companies that deliver high customer satisfaction can indeed be a winning long term stock investing strategy. The seminal work by Prof. Claes Fornell establishes this fact very clearly that businesses that deliver high customer satisfaction are also rewarded handsomely in the stock markets over the long run. Finding such companies early before the big boys may give individual investors a real edge and also the possibility of making large profits.
Additional Reading:
Customer and Stock prices: High Returns, Low Risk (PDF)
Liked the Post? Share it with friends.
Please do follow me on Twitter (@stocknladdr) where I share a lot more interesting things I read.
(Image Source: Pixabay)
Do you love Reading?
Check out the best books to read at the Superinvestors Bookshelf Let's stay connected, Follow me on Twitter @Stocknladdr