Issue 020, 11 Jul 2021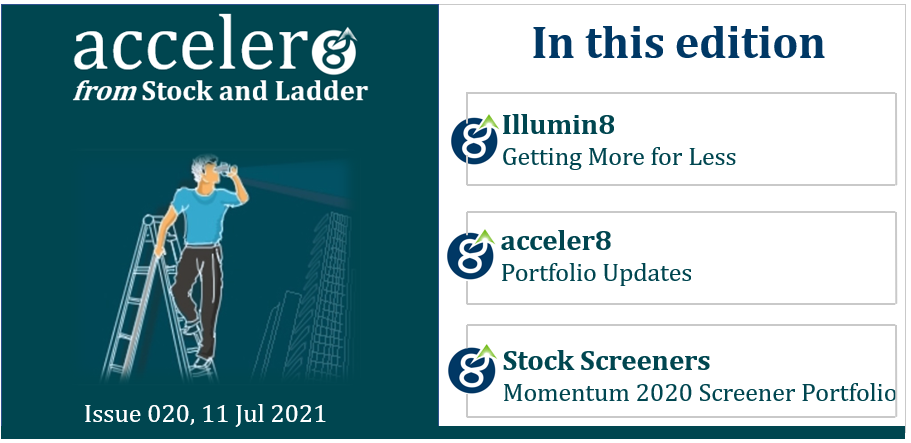 ---
Section A – Illumin8
5 Keys for Your acceler8 Success
You are looking for a mispriced gamble. That is what investing is. And you have to know enough to know whether the gamble is mispriced. That's value investing.

-Charlie Munger

If I can just add another factor to the above equation, it would read as:
You are looking for a mispriced gamble propelled forward by momentum. And you have to know enough to know whether the gamble is mispriced, and the momentum is positive. That is all what we do at #acceler8 portfolio service.
"Get closer than ever to your customers. So close that you tell them what they need well before they realize it themselves. 

– Steve Jobs
As we arrive at the 20th issue of acceler8, leaving behind the "teens" and entering adulthood, I thought it would be appropriate to reflect on the many conversations I have had with some of you over email, WhatsApp and other social media.
"Give me six hours to chop down a tree and I will spend the first four sharpening the axe."

– Abraham Lincoln
And these reflections have been put under 5 points.
I have put down these five thoughts on some of the things I believe will help you get more out of #acceler8 portfolio service.
In similar vein to maximize your investment returns you must take time to sharpen your investment axe (process) and if need be then spend some time to jot down, analyze and improve the process. A sharp axe provides faster returns.
5 keys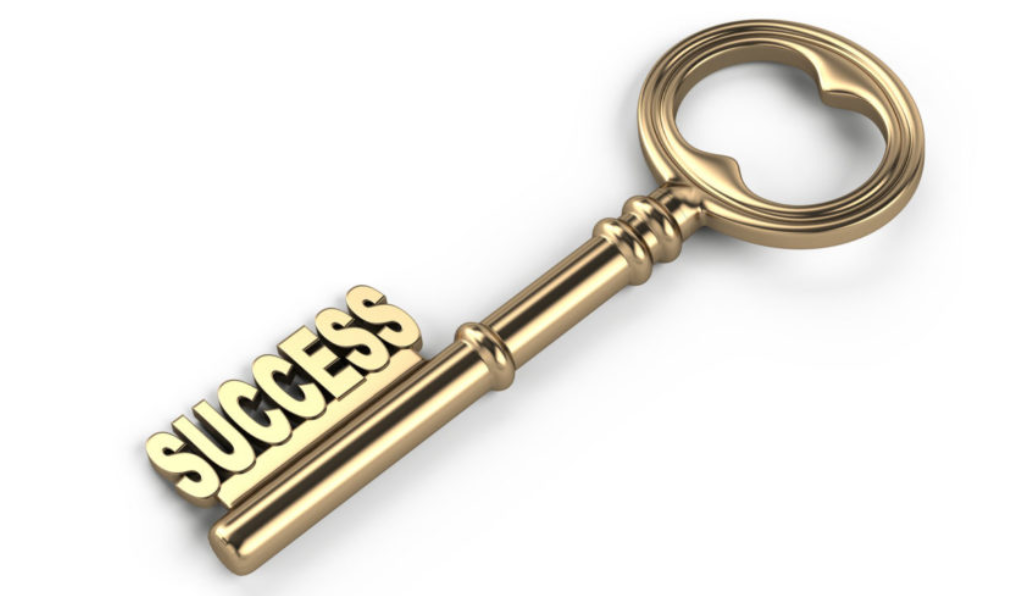 1.     Do not Pick and Choose
At acceler8, we intend to be doing 2 buy trades and 1 sell trade a month which translates to roughly 24 new positions a year. It is highly unlikely that we can sustain the current track record of 14 consecutive 20% return trades.
I have been long enough in this industry to know that even the best of the best will have not get 100% right.
Peter Lynch put it beautifully

"In this business, if you're good, you're right six times out of ten. You're never going to be right nine times out of ten."
Observation: I have spoken to many of you personally, some of you have told me few times
I already own that stock so gave that stock a miss.

I will apply my investing philosophy on these stocks.
Acceler8 has delivered +30% outperformance over the NIFTY at the portfolio level. Some stocks will deliver 4%, few 8% and eventually there may be few stocks which we will give negative returns. Picking and choosing may result in your portfolio's returns not in sync with my portfolio.
While there is every possibility that your cherry picking of investment ideas will deliver even better returns, there is every possibility of the opposite also happening.
Also, creation of a portfolio is an art and significant thinking goes to building the portfolio with respect to many aspects even though they are not explicitly called out
Allocation (how much to deploy / how much to be in cash

Composition of the portfolio (Sector / Market Cap / Beta / Portfolio PE)

Portfolio metrics like portfolio beta, Standard deviation, Sharpe ratio
Tip: As much as possible please do not cherry-pick the ideas unless you have strong reasons to do so.
2.  Allocation per Idea / Position size
Observation: "I buy the exact quantity of shares you have bought in your portfolio"
"In order to win, you need the right timing, and you have to put on a position in the appropriate size. If you, do it too small, it is not meaningful. If you, do it too big, you can get wiped out if your timing is slightly off. The process requires courage, commitment, and an understanding of your own psychology.

–        Michael Steinhardt
"I have two basic rules about winning in trade as well as in Life:

1. If you don't bet, you can't win. 2. If you lose all your chips, you can't bet."

–        Larry Hite
The importance of position size cannot be under-estimated in investing. The trades done in #acceler8 are for much smaller quantities as they are representative in nature.
The corpus of the portfolio is 100,000 with a maximum of 8 stocks. So, the average allocation per scrip will be in the range of 8K- 12K.
To get the maximum, you should allocate at least 25000 per idea.
Just take the last closed recommendation, Avanti Feeds: I know of some of our subscribers who have invested around 10K in Avanti Feeds and in the other end of the spectrum we have some who have invested around 6 lacs in this scrip and profited upto 60K.
It gives me enormous joy to know that some of you have made 10X of the subscription fee in a single trade.
While this is no suggestion to increase your allocation to every idea, please do the math for yourself. Make an allocation proportionate to your investment objective, risk appetite and investment capital. Two things to remember:
–        At least 25K per idea. If you had invested 100000 in acceler8 on inception in Feb 14 2021, it is worth 138650 as of 9th July, 2021.
–        #acceler8 has an investment corpus of 100,000 which is more representative. Each investment will be approximately 1/8th  of the corpus. Simply find 1/8th of your investment corpus to find the right proportion
E.g. In the weekly alert you find 10 Qty of Scrip A has been bought at 1250 for 12500. Your investment corpus is 4 lacs which means 1/8th of 4 lacs or 50000 will be invested in an idea. You can pick up 40 shares
3.  Open a separate Demat Account
The importance of this point cannot be overstated. Having a Separate Demat account helps in
–        Clear segregation of investments between different strategies. I have seen instance where the investments in the acceler8 strategy is mixed with the earlier investments and the whole account gets messed up due.
Difficulty in identifying the actual returns.

Already open positions in the same scrip leads to FIFO principles being applied (First IN FIRST OUT)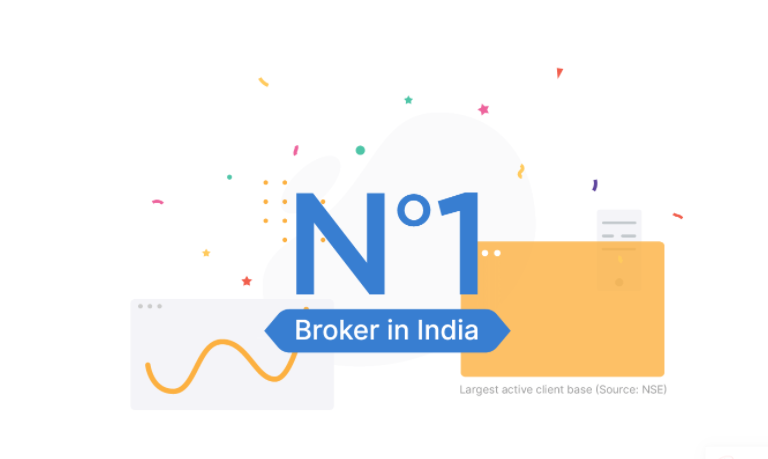 Suggestion: Please open a separate Demat Account for #acceler8. There are many DP providers, you can open the separate account in your DP of choice. I will recommend Zerodha for multiple reasons, their UI is clean; doing a trade is a breeze; they have a slew of products like Kite, Console, Sentinel, Coin, Streak & much more.
Click the link below to open your account.  (I will get some referral incentive at no additional cost to you. But will really mean a lot to me, so please spare 10 minutes and get the account opened. In the long run, you will thank me).
4. Multiple Gurus, Multiple Strategies , Mega Confusion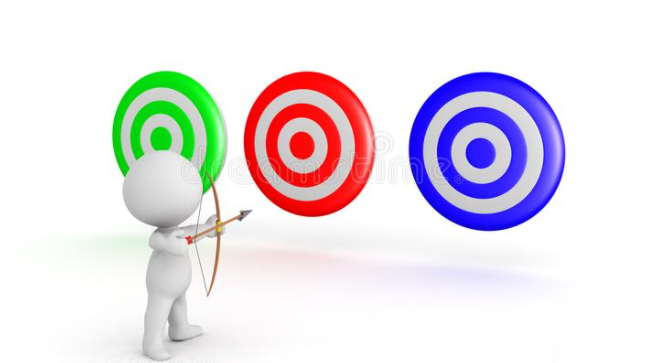 There are multiple roads to Rome is a popular saying. Similarly, paraphrasing Buffett there are multiple ways to investing heaven (profits). Different investors have different temperaments, skill sets, resources and investing objectives.
There is no such thing as the "only" correct way to make money.
But each strategy has some basic principles which needs to be followed. First you must learn all the rules before you try to bend them. And bend them only if you are supremely confident of your abilities or you are sure that it will lead to no significant loss to your portfolio.
At #acceler8, a variation of the momentum investing strategy is followed. Momentum investing as a philosophy has some basic tenets:
–        Buy high Sell Higher
–        Do not catch a falling knife.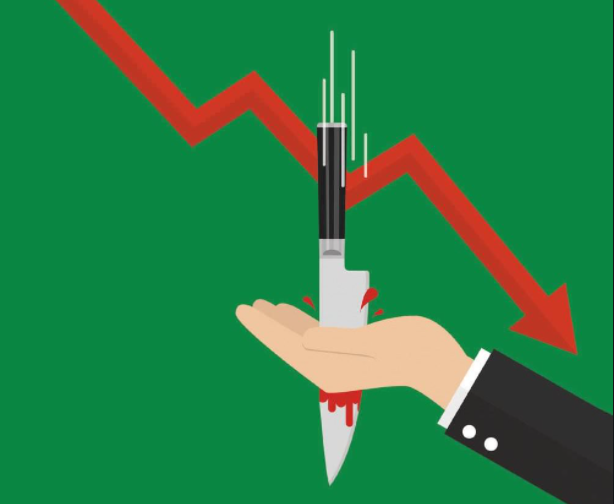 Falling Knife is a downward momentum which can wipe out your position. Unlike Value investing where if the investment was sound at price of 100 and if the price falls to 80 then with all things remaining same "more the better".
–        In momentum investing however, you average up. Say you bought at 100 and now its steadily rising for 5 consecutive days to 110, then you can think of buying more at 110 or averaging up.
It may be possible that many of you are following multiple investment advisors who have their own philosophy, their rationale, and their expertise. While you should be the best judge of which advisor / strategy you wish to follow, please do not combine two strategies.
E.g. Value investing with Momentum investing will be like salt in Banana.
Again this is not a suggestion that you should follow only #acceler8 investing strategy, far from it.
My only humble submission: once you have decided to follow then please do not have half measures or combining  with any other variant of momentum investing. Just as a hunter chasing two rabbits risk catching neither, an investor chasing simultaneously two targets risk reaching neither.
5. Profit Taking
Cut your losses and let your winners ride is a phrase we have often read in the investing books. As with every strategy, you need to have strict discipline to have long term results.
E.g. I have my first review at 5% up and 5% down; second review at 10% up and 10% down. Very rarely will I allow any position to remain with more than 10% loss.
On the upside, there is always a little "greed" in there which pushes us to see if the prices goes up a little more. If it does then would it go a little higher. I can safely say that this only adds up to your anxiety levels, frustrations, and constant monitoring.
Let us say you have a simple rule – say profits of 10% in 3 months. Then when the target is met , you simply book your profits and move on. No tension, No confusion. Sure, there will be few which will go another 20% but there may be few which will go down another 5.
Remember bird in hand is worth two in the bush. Having a process, discipline and rule based investing helps.
Final thoughts
Knowing yourself is the beginning of wisdom. Knowing your tools is the beginning of success and knowing yourself and your tools is the beginning of a successful investing journey.
---
PS : Hope you find these suggestions useful. In case you have any other suggestion on how to benefit better from this service, please share your observations / experiences to superinvestorclub@gmail.com.  Will be more than happy to implement your valuable suggestions for the benefit of all.
---
Section B – acceler8
Nifty50 Last Week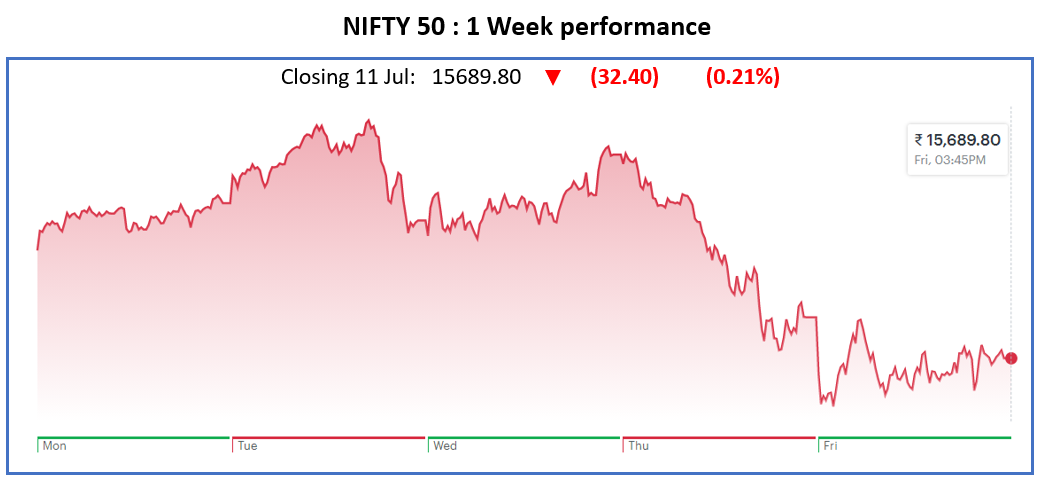 It was an uneventful sideway market with NIFTY ending a shade lower than what it began in the week. However, it was pretty eventful at acceler8 where we booked handsome profits in Avanti and took a fresh position in Bharat Electronics.
acceler8 Portfolio NAV
As on 9 Jul 2021, the NAV of acceler8 portfolio is 138.65 (+37.9%) and has outperformed the benchmark Nifty50 by a significant margin since inception (+34.7%).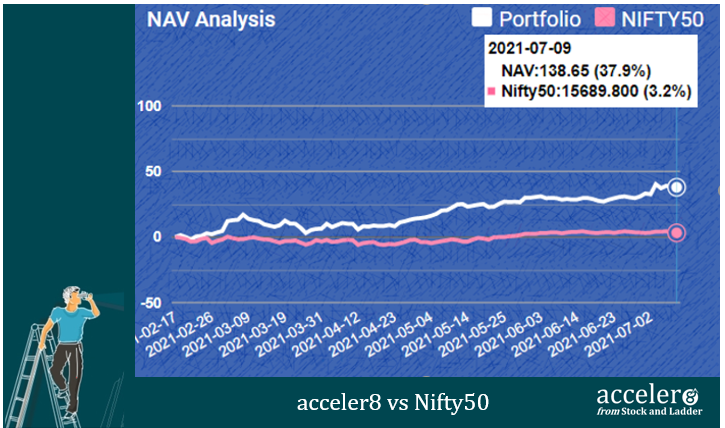 Trades done for the week
The following trades were done this week.

In Avanti, we made a profit of 5.73% in 1 month at a CAGR of 85%.
Fresh position : Bharat Electronics Ltd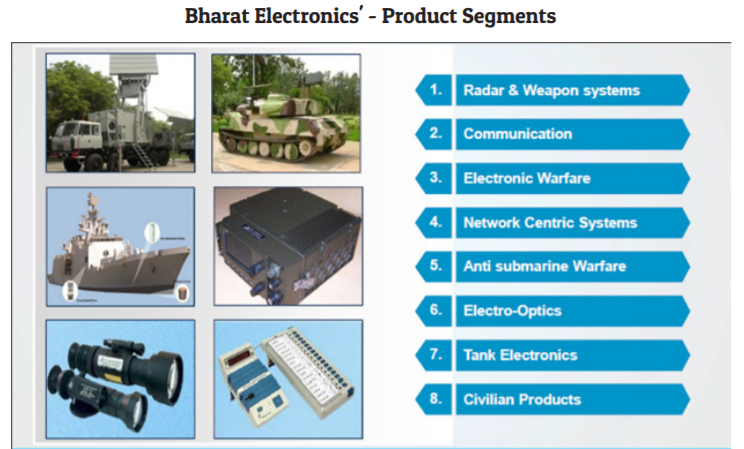 Bharat Electronics is a Navaratna company manufacturing radar and weapon systems, defence communication, electronic warfare and makers of Akash missiles. India has the 3rd largest defence budget, after US and China.
With a volatile situation on both western and eastern border, defence PSU's have room for growth. Strong order book at 500 billion rupees. Excellent execution track record and lean balance sheet makes BEL a worthy candidate for acceler8 portfolio.
Current Position
As on 09 Jul, the consolidated value of current holdings is at ₹37,305 with around 65% in cash.

---
Section C – Stock Screeners
Momentum 20-20 Screener
With multiple queries on this screener, have added the objective of this section and the how you can use this screener. In case you have further queries, please do reach out to us.
Objective
The objective of this screener is to provide readers with a handpicked collection of momentum stocks. The stocks mentioned in this screener are not recommendations but a mechanical representation of stocks that qualify the screener criteria.
How to use this screener
The stocks which qualify can be part of your momentum watchlist. Subscribers can do additional reading / research before taking the investment decision. This list only helps you to narrow down your stock selection from universe of potentially hundreds of stocks.
Rebalancing for this week
Entry (3)

Exit (2)

Active Portfolio as on 09 Jul 2021
1. Grindwell Norton Ltd
2. Tata Elxsi Ltd
3. Thyrocare Technologies Ltd
4. Bharat Electronics Ltd
5. Colgate Palmolive India Ltd
6. Birlasoft Ltd
7. Oracle Financial Services Software Ltd
---
Until next week, stay safe and take care.
Happy Investing!
Do you love Reading?
Check out the best books to read at the Superinvestors Bookshelf Let's stay connected, Follow me on Twitter @Stocknladdr