Issue 004, 14 Mar 2021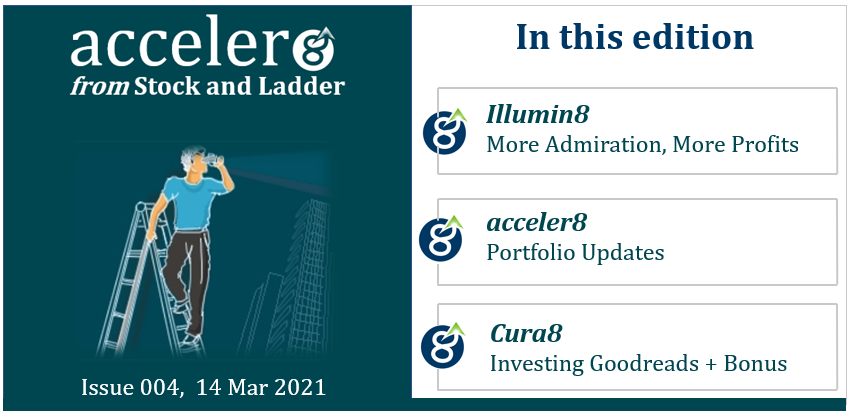 ---
Section A – Illumin8
More Admiration, More Profits
"I am not well qualified to criticize the theory of rational expectations and the efficient market hypothesis because as a market participant I considered them so unrealistic that I never bothered to study them".

–George Soros
Does a great business make a great investment?
Apparently No. That is what many of us who studied efficient market theory as part of college curriculum learnt. The theory goes that new pieces of information gets automatically reflected in the price as markets are efficient.
Since the "greatness" of a business is already well known, the same would have been built into the price. This is what the modern portfolio theory wants us to believe.
"I did be a bum on the street with a tin cup if the markets were efficient" – Buffett
Like Soros, Buffett too had scant regard for this efficient market hypothesis.
Finding the next great stock
All of us are in the lookout for multi-baggers and to find the next great stock idea to invest.
Buffett's top hire , Todd combs, when asked about what he thinks is the most important thing about investing put it very nicely as "finding the great horse that no one else thinks is a great horse"
A great company can be a great investment
Now what if betting on the great horse that everyone else also thinks is a great horse is also rewarding. This is precisely what two academicians J. Anderson and G. Smith sought to test in a study .
Abstract of their Study

A classic investing mistake is to confuse a great company with a great investment, since a company's well-known virtues are presumably already factored into the price of the company's stock.

We test this "mistake" by looking at the stock performance of the companies identified each year by Fortune magazine as America's most admired companies.

Surprisingly, a portfolio of these stocks outperformed the market by a substantial and statistically significant margin, contradicting the efficient market hypothesis.

-J. Anderson and G. Smith, A Great Company Can Be a Great Investment, Financial Analyst Journal, 62(4), (2006)
Methodology
The research involved creating two portfolios. The first one consisted of equal investments in the top 10 stocks declared as America's most Admired company every year and the other portfolio invested directly in the S&P 500.
Our Fortune strategy involves investing an equal dollar amount in each of the most admired stocks each year. In one set of calculations, the trading day for this investment is the publication date. (Investors can easily implement this strategy because the magazine is actually sold a few days before the publication date given on the magazine cover.)

 In our other calculations, the portfolio trading day is 5, 10, 15, or 20 market days (approximately 1 to 4 weeks) after the publication date. The Fortune portfolio is initially formed on 1983's trading day; each year thereafter, the portfolio is liquidated on that year's trading day and the proceeds are reinvested in that year's most admired companies.

 The S&P 500 strategy is to be fully invested in the S&P 500 index over the entire 22 years
21 portfolios consisting of the Fortune's 10 most admired stocks  from 1983 to 2004 showed, on average, a 16.51% increase in value 250 trading days after the publication date, while the S&P 500 showed an average increase of only 10.27%. That is a significant outperformances
Conclusions from the study
Portfolio consisting of the stocks identified annually by Fortune magazine as America's most admired companies outperforms the S&P 500, whether the stocks are purchased on the publication date, or 5, 10, 15, or 20 trading days later. This is a clear challenge to the efficient market hypothesis since Fortune's picks are readily available public information.
What does this mean for us
Simply put there is money in the "lists" published by top media companies like List of most admired companies, List of top brands, List of best banks and more. Why?
Because the underlying principle of these lists is the concept of "scuttlebutt investing"- a term made popular by one of the greatest investors ever  Philip Fisher in his book – Common Stocks and Uncommon Profits.
Scuttlebutt investing would mean talking to a company's customers / competitors / suppliers / vendors / former employees and asking the relevant questions to elicit  the right responses. The responses then would shape the outcome of the final investing decision in the company.
These "lists" published by the media publications are scuttlebutt at gigantic scales. Fortune when they make their most admired company list talk to an average 10,000 relevant people who are competitors , CEO's, vendors, customers and their collective wisdom combines to create these Top 10 or Top 20 companies.
Think of these lists as someone doing the scuttlebutt for you.
Does it work in India ?
I am sure this question would have popped a few times as you were reading this. I looked up and found that Fortune does publish such lists specifically for the Indian market from 2012 along with the same Hay group.
I looked up the Top 10 most admired companies in India for the first three years: 2012, 2013 and 2014. The companies not listed in India like IBM, Coca Cola was removed. I looked at the list and immediately found 4 companies present in all the three years and 6 companies coming in 2 out of 3 years.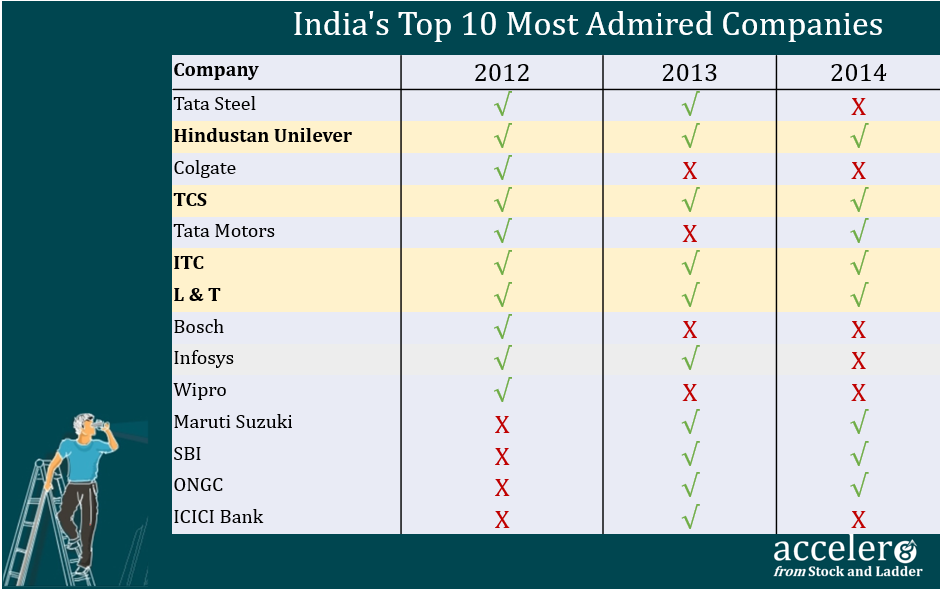 To keep it simple, the exact methodology followed in the research study was not adopted, a quick back of the envelope calculations was done to compare the total returns from the stock vs. NIFTY50 over a five year period.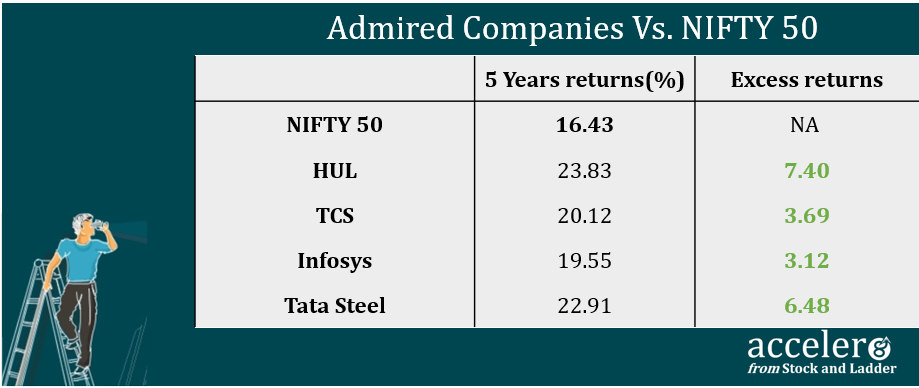 Final Thoughts
While finding the best horse that no one else believes to be the best horse is really rewarding, this strategy is best left to professional money managers with deep pockets.
Finding the next HDFC bank, next CRISIL will be highly rewarding but the whole process is time intensive, risk intensive and effort intensive with no guarantee of success.
Instead investing in the already known great businesses at favorable prices is a profitable and practical strategy. The list published by the top media companies are a useful starting point for investors to build up your watchlists for further research. Investors can leverage the power of 'scuttlebutt investing' to find great businesses.
Additional Reading
---
Section B – acceler8
Portfolio Updates
"We don't get paid for being busy, we get paid for being right"

– Warren Buffet
These words are worth its weight in gold when it comes to managing money. In the game of cricket there is a phrase called "Well Left". Its typically used when a quickie bowls a well directed rising ball and the batsmen would be better of leaving or ducking than offering a shot and getting out.
Mr. Wall in action
Similarly in investing Buffet wrote
"The trick in investing is just to sit there and watch pitch after pitch go by and wait for the one right in your sweet spot".
This is precisely what happened last week in the market. I weighed up lots of options and in the end none of them was really a juicy full toss on leg stump. Rest assured, I will not be swinging the bat just for the sake of hitting.
Will see what the market has to offer next week.
As I have been indicating from the first edition, in an expensive market one should be wary of sudden drawdowns and hence should make well thought out and targeted "quick" trades more like a surgical strike on an enemy camp rather than a fully drawn up mega operation.
" while investing in these overheated markets, we should not go for risky trades with large payoffs but should try to play it safe with less riskier trades backed with high convictions…..I prefer a surgical strike kind of operation – precise, quick and well planned.
#acceler8 is one month old
#acceler8 completes 1 month today and is very much in its infancy. Having said that life is all about celebrating these small moments. I am happy to inform you that your acceler8 portfolio has outperformed benchmark NIFTY 50 by a significant margin (+13.4%)
acceler8 portfolio NAV
NAV is a fine way to compare your portfolio viz a viz any benchmark. On Day 0 (14th Feb 2021) the portfolio NAV starts at 100. As on 12 Mar 2021, the NAV of acceler8 portfolio is 112.79 (+12.2%) and has outperformed the benchmark Nifty50.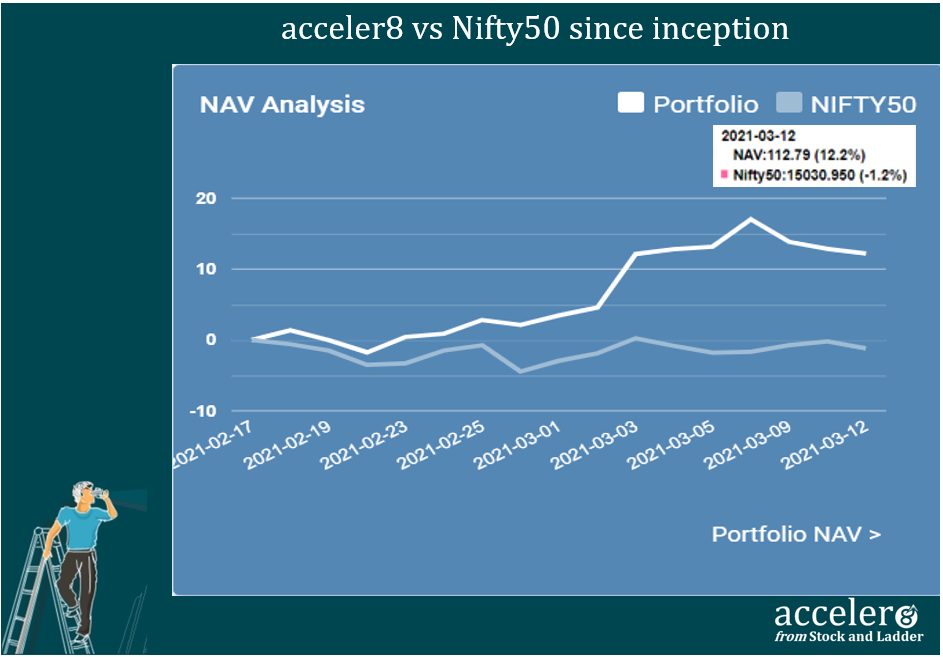 Trades done for the week
Sold Tata Power @ ₹ 107.05
(The details were shared over email during trading hours itself.)

Closed positions
We sold 200 shares of Tata Power @ ₹107.05. The closed position gave us a profit of ₹2890 ( 15% ) in 19 days.

Current holdings
As on 12 Mar, the consolidated value of current holdings is at ₹29,540 (+1.1%) with close to 80% in cash.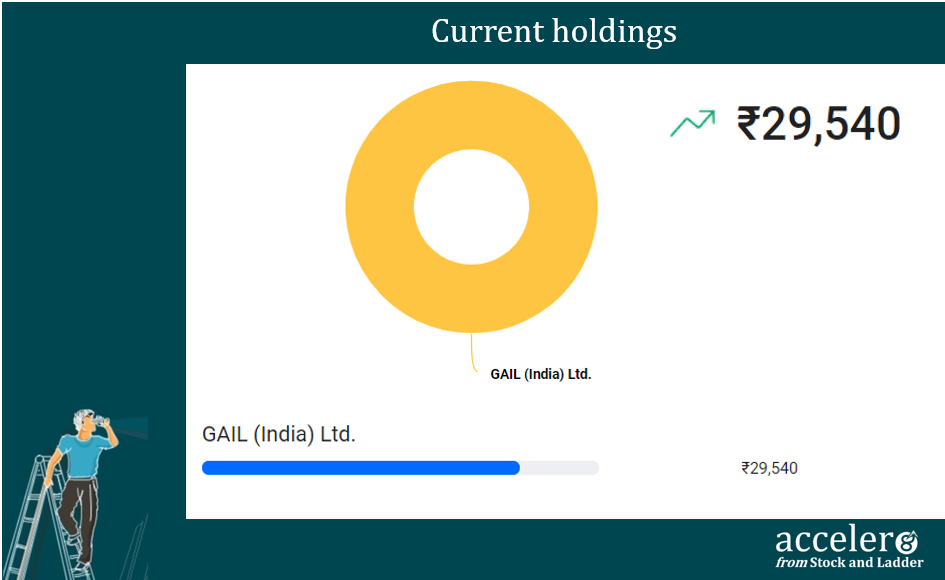 ---
Section C – Cura8
Handpicked #goodreads + Bonus content
Big Market Delusion: Electric Vehicles
The "big market delusion" is when all firms in an evolving industry rise together, although as competitors ultimately some will win and some will lose. Today's electric vehicle (EV) industry with its astronomical growth in market-cap over the 12 months ending January 31, 2021 is a classic example of the big market delusion. As EV competition heats up, many companies will fail, and with time the total value of the industry will recede to more reasonable levels. (research affiliates)
10 financial mistakes you will regret at age 50
Choosing the wrong investment vehicle or putting money in dubious schemes are some of the mistakes one could commit while investing. It is important to understand how not to make mistakes that you will regret 15-20 years from now. ( ET Wealth)
The Ultimate Guide to Liars and Lying: Everyone Falls Into These 4 Types
"This above all: to thine own self be true, And it must follow, as the night the day, Thou canst not then be false to any man".

– William Shakespeare in the play "Hamlet"
Why do people Lie ? Did you know there was a taxonomy of liars? Understanding lies and liars can help us avoid getting duped as well as protect us from drifting into dishonesty ourselves. (nirandfar)
Bonus
A 180 page PDF on analysis and valuation of Insurance Company from Columbia Business School.
Hope you enjoyed reading this edition of acceler8.
Compound your learnings, Accelerate your earnings
Happy investing !!!
PS : Please help spread the word on acceler8 socially.
PPS : acceler8 is now on Facebook. Do like the page and share with your friends.
---
acceler8 Feedback Form
PS : #acceler8 is a month old now but very much still in infancy. As we take these baby steps, we sincerely hope we are useful, relevant and adding value to your investing journey.
Request you to kindly spare a few minutes to tell us how we are doing w.r.t the topics covered, format, the acceler8 portfolio or anything else what you feel we should know.
Looking forward to your responses.
Happy Investing
Team #acceler8
Do you love Reading?
Check out the best books to read at the Superinvestors Bookshelf Let's stay connected, Follow me on Twitter @Stocknladdr