Everything you need to know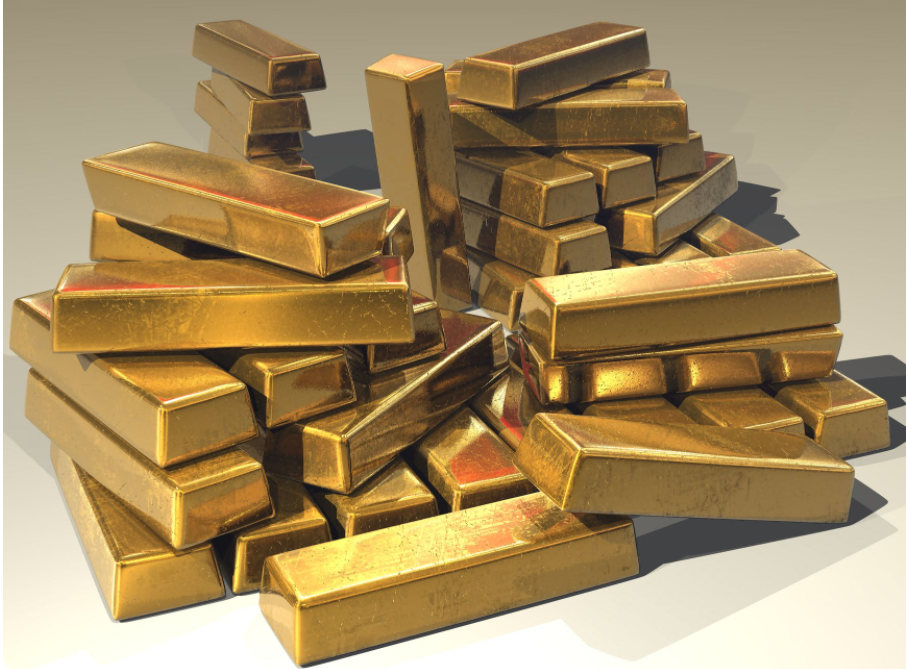 "The desire of gold is not for gold. It is for the means of freedom and benefit".

– Ralph Waldo Emerson
Gold, the precious yellow metal holds a special place in our culture, in our psyche and also in our tradition. From time immemorial gold has been a source of wealth, power and prestige.
Every civilization in every region irrespective of color, creed, race and the period in history celebrated the possession and accumulation of gold.
Right from the early days of our great grandfathers , the love for gold seems an universal phenomenon and concerted efforts were made to accumulate gold in the form of coins, bars, biscuits and jewellery. Enter 21st century and the love for gold remains but only the options available to accumulate gold has changed.
Ways to invest in Gold :
a)    Digital Gold
b)    Gold Exchange Traded Funds
c)     Gold Mutual Funds
d)    Gold Fund of Funds
e)    Stocks in Gold mining companies
f)     Gold Sovereign bonds
g)    Physical gold
Bars

Coins

Biscuits

Jewellery

Gold Bonds
Gold over the years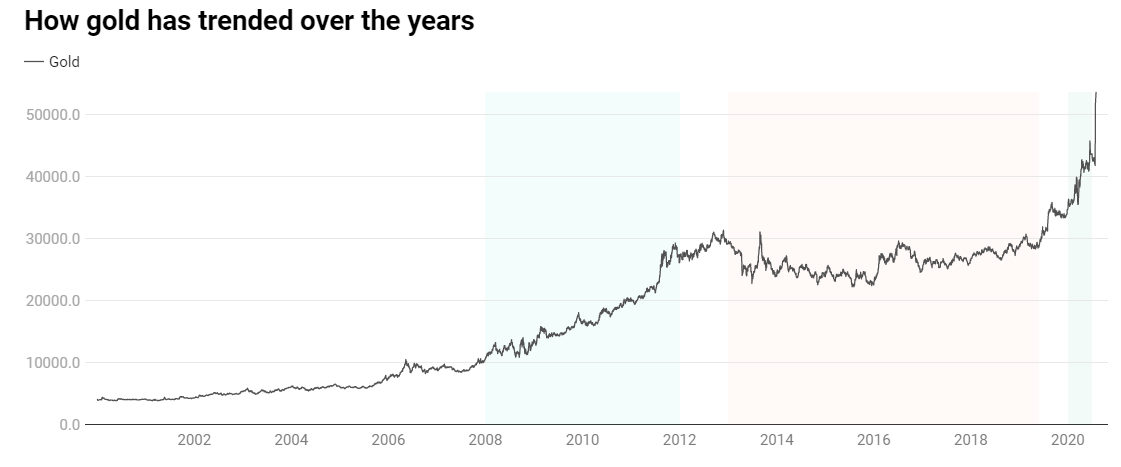 Historic Returns
As is evident from the table that Gold has indeed done well. For long term investors gold offers an excellent hedge against equities during times of turmoil, panic and pandemics.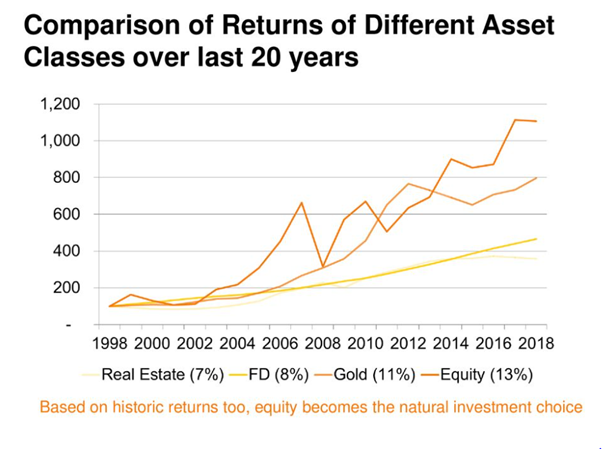 Sovereign Gold Bonds
RBI recently came out with the dates for Sovereign Gold Bonds (SGB) tranches for this financial year.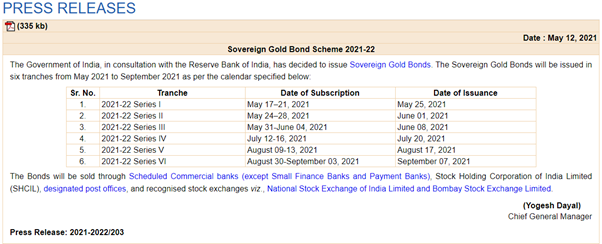 While we will look into the gold as an asset class, its merits / demerits in another article based on your feedback, this article is solely on Sovereign Gold Bonds (SGB) – A Fine investment in gold backed by the Govt. of India and suitable for long term investors with an investing horizon of more than 4 years.
Quick FAQ on Sovereign Gold Bonds
1. What is SGB
SGB are bonds issued by RBI on behalf of the Govt. of India. It is an alternative to holding physical gold and is issued in denomination of 1 gram of gold.
2. Benefits
No handling cost and other hidden charges

Risks and cost of storage eliminated

No making charges or fear of purity

Can be purchased in online Demat form

Receive interest which is not there in physical gold along with possibility of capital appreciation on maturity
3. Price
Simple average of closing price of gold of 999 purity published by the India Bullion and Jewelers Association Limited for the last three business days of the week preceding the subscription period.

₹ 50 per gram less than the nominal value, applicable if you apply online.
4. Interest
2.5% payable semi-annually

Last interest payment along with maturity proceeds

Credited to the bank account mentioned in application form
5. How much you can invest
Max 4 kg every financial year

Even incase of joint account, 4kg maximum and issued to the primary / first holder
6. Maturity
Maturity of 8 years

Pre-payment possible after 5 years

Listed in Stock markets, so second sale possible
Price on redemption is the simple average of closing price of gold of 999 purity published by the India Bullion and Jewelers Association Limited for the last three business days of the week preceding the maturity
The exact date of maturity will be informed 1 month before maturity
7. Taxation
Interest income taxable as per slab

Redemption proceeds exempt from capital gains

TDS on interest not applicable

Indexation benefit available for long term capital gains on transfer of bonds
8. Who can invest
Resident Indian entities

Individuals

HUF

Trust

University

Charitable Institutions
9. Risk
The main risk with SGB is the loss of capital on redemption due to fall in price in gold on the date of maturity.
In these times of Covid 19, SGB's can be purchased from the comfort of our homes through online (mobile / internet banking app of your bank).
Final thoughts
SGB's are a fine investment for long term investors seeking to diversify their risk across asset classes. In comparison to physical gold SGB's have tremendous advantages as explained above and allocation upto 5-10% of your total portfolio is good to consider. On this auspicious occasion of Akshaya Tritiya add a dash of gold to glitter your portfolio.
Happy Investing !!!
Annexure
RBI Gold Sovereign Bond Scheme 2021-22 Circular
---
Dear Reader,
On this occasion of Akshaya Tritiya another gold like investment you can make is a subscription for acceler8 portfolio learning service. acceler8 is a premium investing newsletter for creating wealth through strategic trading by following a momentum strategy.
Since inception acceler8 has outperformed the benchmark NIFTY 50 by 22.9% with a CAGR of 43.1% and with 77.6% of all buys delivering greater than 25% returns.
Subscribe NOW and avail 20% discount on Annual plan.
Do you love Reading?
Check out the best books to read at the Superinvestors Bookshelf Let's stay connected, Follow me on Twitter @Stocknladdr