Issue 012, 16 May 2021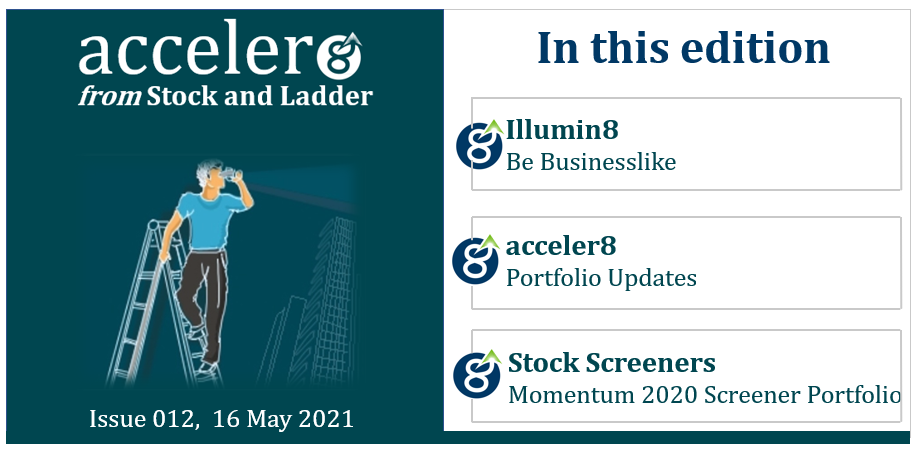 ---
Section A – Illumin8
Be Businesslike
"Beware of little expenses; a small leak will sink a great ship".

–Benjamin Franklin
Benjamin Graham in his masterpiece "The Intelligent Investor" beautifully put it when he said investment is most intelligent when it is business like. Now what is business like: to start with every successful business has a business plan, are aware of their competitive advantages / disadvantages, are in business to solve a customer problem or solution and most importantly to make a profit.
There are multiple ways to increase your profits and the most rudimentary level there are two approaches:
1.      Increase Revenue
2.      Reduce Cost
Now look at your investment venture from the prism of a "business". Are you running it business like?
Put it another way, you can increase your returns from investments by hunting for multi-baggers or stocks which provide large returns and by reducing your costs. Increasing the income involves looking for better ideas, greater research, or only plain dumb luck.
On the other hand, costs of investment are an area which is completely in your hands. The major costs involved in investing in shares:
a)      Research expenses – This corresponds to expenses for idea generation.
b)     Trading expenses – This is the focus area for this post.
c)      Taxes – this corresponds to short term and long term capital gains which we will cover in a separate post.
Research Expenses
This involves subscription to newspapers, magazines, research reports, trade journals, investment advisory services, purchase of books and enrolment for training programs, among others.
Some points to ponder:
–        Go for digital editions wherever possible. Some of us want to have the smell of that fresh paper and a desire to hold a book / paper / magazine in our hands to have the full satisfaction. If that is the case, then do not hold back on that little joys.
–        However, if you have no such pet fetishes then review your physical subscriptions.
–        Periodically at-least once a year review your complete subscriptions.
–        When purchasing books, go for the Kindle edition (this needs a post and the amazing things you can do by proper highlighting, color-coding, and bookmarking)
Trading Expenses
Did any of you notice any change in the Trade Details shared with you on Friday?
Zerodha trade dashboard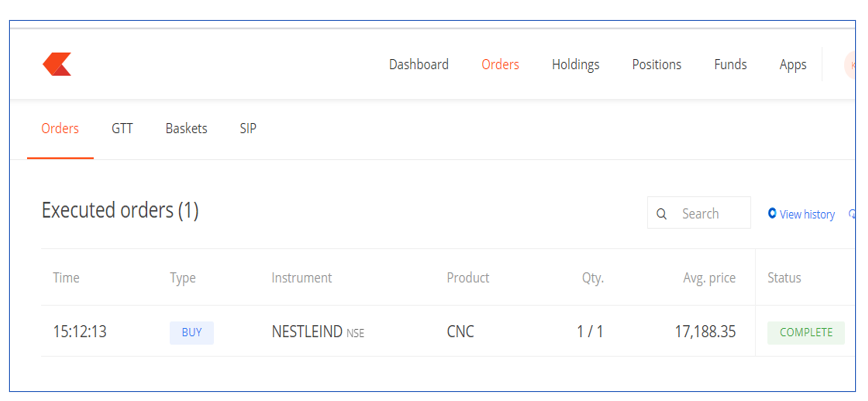 Yes, you will notice that I have done the trade through Zerodha? Why? While I had absolutely no problems with the quality of the service with Kotak Securities, Kotak being a full serviced brokerage they were charging me a fixed percentage of the trade value.
Even if you are a priority customer, full-service brokers like ICICI securities, Kotak Securities charge a higher amount for the "advisory" business and most importantly the 3-in-1 account feature. Being in investment business, these full-service brokers are necessary, and we have trading accounts with 3 of them but that is mainly due to being in professional money management and for handling the HNI client advisory businesses.

The main point though is that for most of the individual investors, a trading account with a discount broker is more than sufficient. The good ones are technologically forward looking, efficient, user friendly with decent customer support.
While this piece is not intended to be a marketing piece for the likes of Zerodha or Upstox, the key point is to highlight the key components of the Trading charges.
Trading Charges:
1.      Brokerage: This is the amount charged by the broker for using their platform to trade in an exchange. It varies from a fixed % percentage (0.10% to 0.75%) for full-service brokers for delivery trades. Discount brokers either mostly charge a flat fee per order or is not based on a percentage of the trade value. It varies from zero charges for delivery trade to ₹ 20 (most common) or any other fixed charges.
There are few brokers who had innovative plans like a fixed amount per month for unlimited trade. E.g. ₹ 400 per month for unlimited trades.
You can do similar calculations for intra-day trading, futures, and options.
2.      Security Transaction Tax (STT): A Government levy for the transaction done on an exchange. Applicable for buy & sell for delivery trades and only on sell side for intra-day & F&O trades.
Presently 0.01% on both Buy & Sell.
3.      Transaction / Turnover charges: Charges levied by the exchange on the value of the transaction.
Both NSE & BSE charge 0.00345%. BSE charges vary based on the share group too like SS and ST groups the charges are 1 lac per crore of gross turnover.
4.      GST : Levied as a percentage on brokerage amount. There is a central component and state / Union territory component which are together referred as IGST. Usually charged @ 18%  on brokerage.
5.      GST on Transaction charges: Charged @ 18% on Transaction / Turnover charges.
6.      SEBI charges: SEBI charges this expenses for regulating the capital markets. Currently at ₹ 10 per crore .
7.      Stamp charges: Government levies as per Indian Stamp Act 1899 for transacting in exchanges. This may vary from State to state. Generally charged at 0.015% or 1500 per crore for buy transactions.
8.      DP charges: For every sale done on the exchange a fixed amount is charged by the exchange for every debit in the holdings. This is charged per scrip for every sell and is irrespective of the quantity.
Currently ₹ 13.50 + GST for every sale irrespective of the quantity.
Additional charges with no co-relation to sale includes:
–        Annual Maintenance charges AMC ( yearly)
–        Account opening charges (one time)
–        Payment gateway charges
–        Charges for physical contract notes
I am not touching upon pledge / off-market & other charges as they are for specific services other than normal buy / sell.
Contract Note
Scenario 1
Purchase transaction in #acceler8 through Kotak securities (Full service broker @0.21% commission)
Contract Note: Full-service Broker (Kotak)

I have created an excel model, which replicates the charges. It is a simple model for delivery-based trades which has helps me do my math / verification. There is a 0.01 difference due to rounding of stamp duty.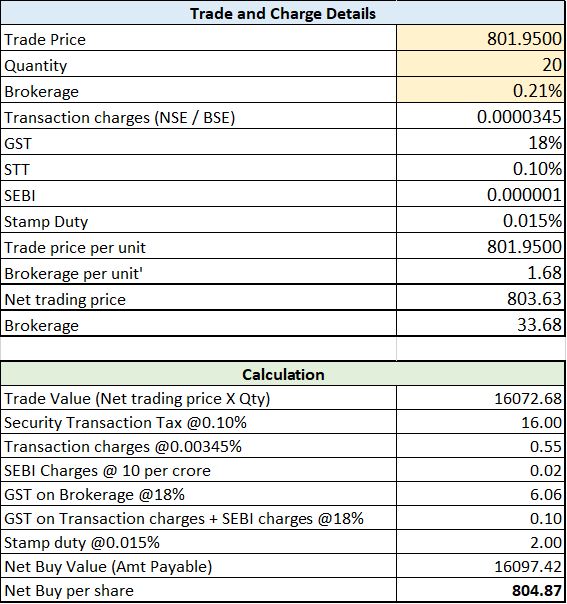 Scenario 2
Purchase transaction in #acceler8 through Zerodha (Discount broker Zero commission)
This is the transaction we did Friday, purchase of Nestle 1 share.
Contract Note: Zerodha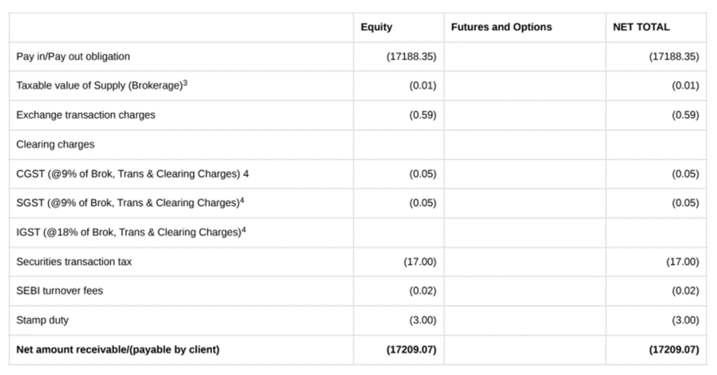 Excel model
Here is my excel model of Zerodha. Tallies to the paisa.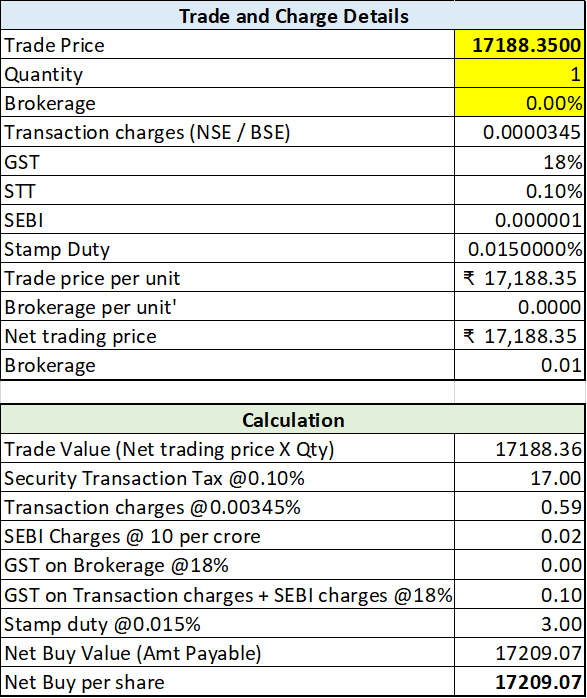 Scenario 3
Now if were to do scenario 1 through a discount broker like Zerodha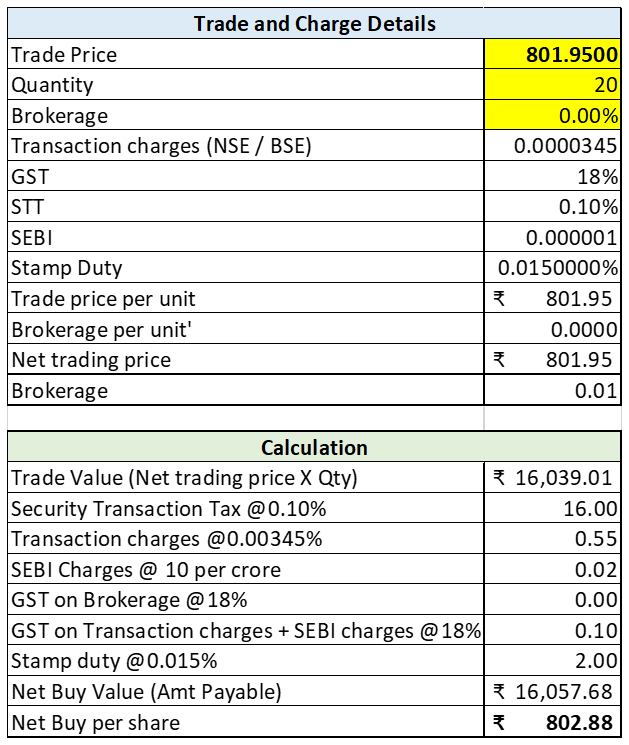 You can immediately see the Net buy per share has dropped from 804.87 to 802.88.
Let us dig a little deeper: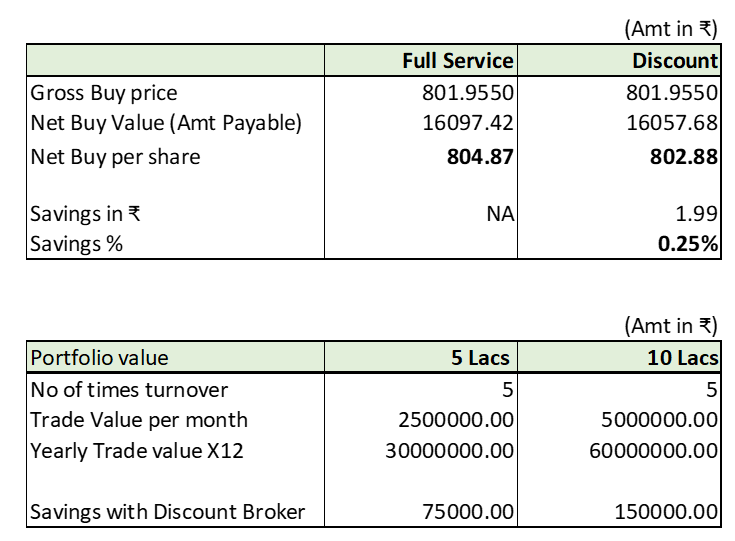 –        Going with the discount broker give one a straight 0.25% savings.
How does this translate in real life scenarios? We will assume a strategic trading account with 5 lacs and 10 lacs each and see the calculations with an assumption that the trading capital is turned over 5 times in a month which is reasonable for strategic trading account.
This translates to a savings of ₹ 1.50 lakhs for a ₹ 10 lakh portfolio which has a turnover of 5 times.
Final thoughts
As you can see from the examples small expenses when compounded has a large impact on your portfolio. As Benjamin Franklin said, small leaks can sink a great ship. As you steer the ship of your financial portfolio through the seas of the stock market make sure there aren't any leaks.
Put it another way, every rupee counts. Every small expense saved has an impact on your overall returns and brokerage is one area which many tend to overlook.
PS : In case you wish to open an account in Zerodha please follow the link here :
---
Section B – acceler8
Portfolio Updates
This week is another milestone for acceler8. We are 3 months old. It has been a terrific 3 months and consistently outperforming the benchmark NIFTY 50.
1) NIFTY50 last week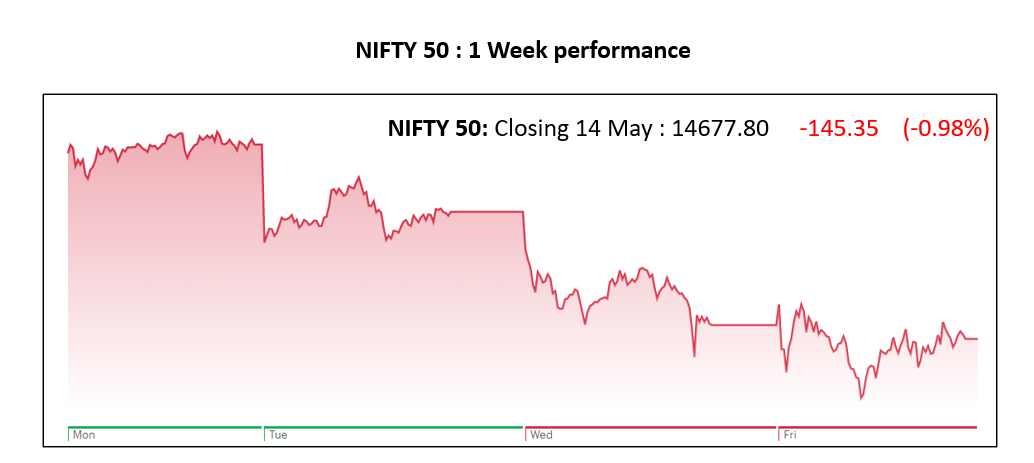 It was another sideways week for NIFTY 50, closed 145 points less (-0.98 % ). With pandemic not showing any respite and India clocking very high number of positive rates, there has been an overhang in the markets too.
Even scrips like IEX which have delivered fantastic set of numbers saw a pull back. Until we see the light at the end of the tunnel with respect to Covid, we can expect a bumpy market.
In such times, one should be careful to not to enter into high beta stocks. And that is precisely what we are doing at acceler8.
You will be surprised to know that the PE of acceler8 stocks has been significantly lesser than NIFTY 50 PE which indicates that for a lower multiple we have generated better returns. Currently the PE of acceler8 stands at 17.77 vis-à-vis NIFTY 50 PE of 29.79.
2) acceler8 portfolio NAV
As on 14 May 2021, the NAV of acceler8 portfolio is 123.84(+23.2%) and has outperformed the benchmark Nifty50 by a significant margin (+26.7%).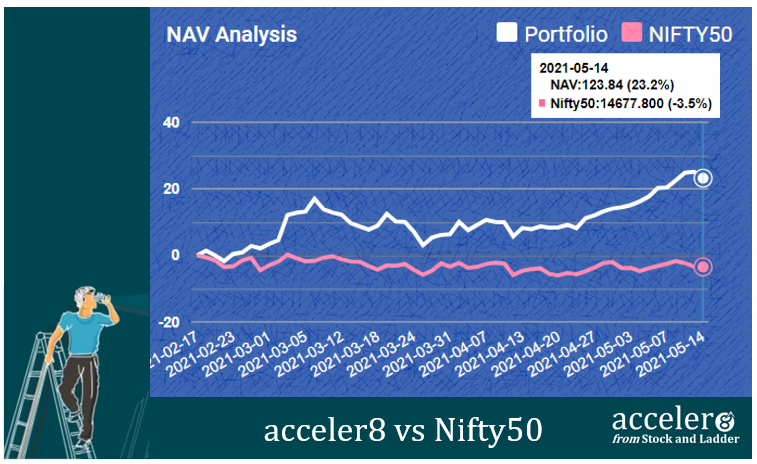 3) Trades done for the week
The following trades were done this week.

We have initiated a position in Nestle, an absolute high quality stock. Nestle has a portfolio of wonderful brands like Maggi noodles, KitKat, Maggi Sauces, Milkmaid, Nescafe Classic and it delivered blockbuster results for Q1. Considering the explosive growth in Q1, few brokerages have downgraded the stock which had impacted its price movements.
Lets see what the Market throws up next week.
4) Current Position
As on 14 May, the consolidated value of current holdings is at ₹84,571 with around 20% in cash.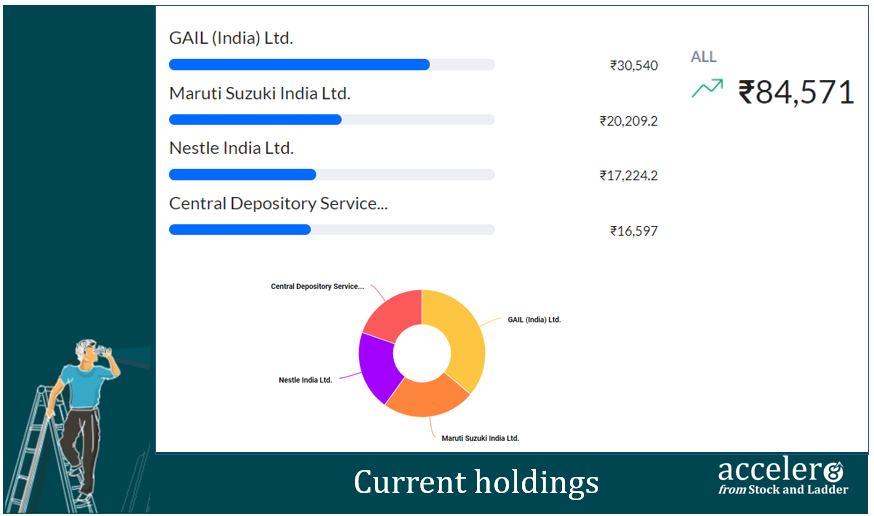 ---
Section C – Stock Screeners
Momentum 20-20 Screener
As mentioned in the last week's acceler8 issue, we will be tracking the Momentum 20-20 portfolio and rebalancing it every week.
Rebalancing for this week
Entry : 1 stock : Grindwell Norton
Exit : 1 stock : Dr Lal Pathlabs
Momentum 20-20 portfolio has three stocks :
1.     Grindwell Norton
2.      Tata Elxsi
3.      Oracle Financial
---
We have published a new video on Betting Selectively. Do check out in the link below.
Please subscribe to our channel and share among your friends and family.
---
Until next week, stay safe.
Keep learning, Keep rising
Team #acceler8
PS : We will be opening the telegram group on 17 May '21. There are few who have still not shared the details as requested, please do so immediately.
PPS : In case you missed, we have introduced "Refer a friend" scheme. Please do share with your circle of contacts and earn additional months of subscription FREE.
Do you love Reading?
Check out the best books to read at the Superinvestors Bookshelf Let's stay connected, Follow me on Twitter @Stocknladdr